TRMR Technology
TRMR is a mobile video unit with a generic payload interface that can be inserted into subterranean or confined spaces (such as tunnels or collapsed structures) via an inverted sleeve compression apparatus.
Controlled from a safe distance through fiber optic communication, TRMR is capable of inspecting hazardous spaces. The system is deployed by creating pressure in the inverted sleeve that pushes the module into the confined space and over any obstacle in its way.
Due to the nature of the system and the deployment mechanism, TRMR is very easy to operate and can be outfitted for different applications by using a variety of vision and sensor capabilities such as LIDAR, CBRN sensors or radio repeaters.
Easily deployable and
operated by a single user.
Effective in both subterranean
and dense urban environments
Navigate effectively with
additional payloads mounted
on the robotic head.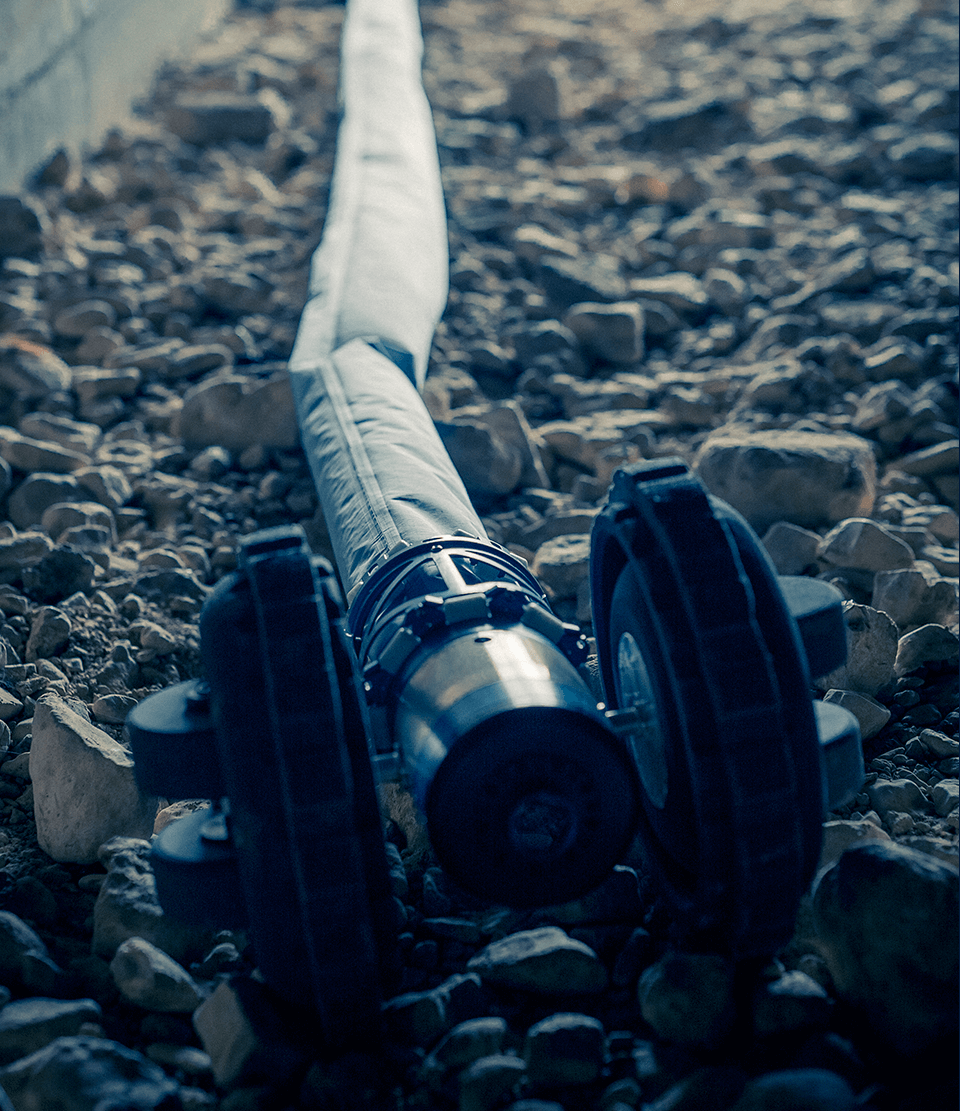 Capability Description
General Description
TRMR technology is a robotic vision module attached to an inverted sleeve system (which is primarily used for maintenance of sewage piping) that is deployed into subterranean and confined spaces not safe for a human. With the ability to outfit the system with a variety of sensors and cameras, TRMR solves many of the issues faced in subterranean scenarios
Technical Description
The system weighs 45 lbs for a man-portable version, with deployment reaching up to 325 feet at 33 feet per minute. Additionally, it is able to overcome obstacles up to ~5 feet tall.
Intended Purpose
TRMR is designed  to offer a unique solution to the complex problem of subterranean operations and exploring structurally unsound enviroments by offering a reliable and cost effective way to safely search tunnels, culverts, and other confined spaces TRMR can help provide an additional layer of safety for the user by creating safe separation between the operators and hazardous areas of operation.
Enhance Mission Effectiveness
Generally subterranean missions are considered quite complex, dangerous, costly, and time consuming. TRMR offers a single user a fast, simple, and cost-effective way to search hazardous areas and provide visual/sensor feedback to the operator from a safe distance.
Limits of Environment
The TRMR system performs best in small passages due to its design: since the robotic forepart is pushed into the confined space via pressure being put into the inverse sleeve, confined environments will guide the robotic head while the reverse sleeve pushes the optical portion further into the hazardous environment.
About IBEX Technologies
IBEX Technologies was founded in 2011 by Raphael Moisa and Oleg Popov to implement their vision of excellence.
IBEX Technologies has grown to an engineering and manufacturing company founded to research, engineer and manufacture multi-disciplinary products and technologies.
Our industry experience in the automotive market positioned us to target new industries and to successfully diversify. We have implemented our systems to successfully grow as a
supplier for: consumer products, electronics and medical devices & HLS.
We excel at both our quality and delivery rating while meeting the competitive demands of the global market place. IBEX Technologies is known for its service, creativity, technology and
commitment to excellence.
We're here to help and answer any question you might have.
We look forward to hearing from you.